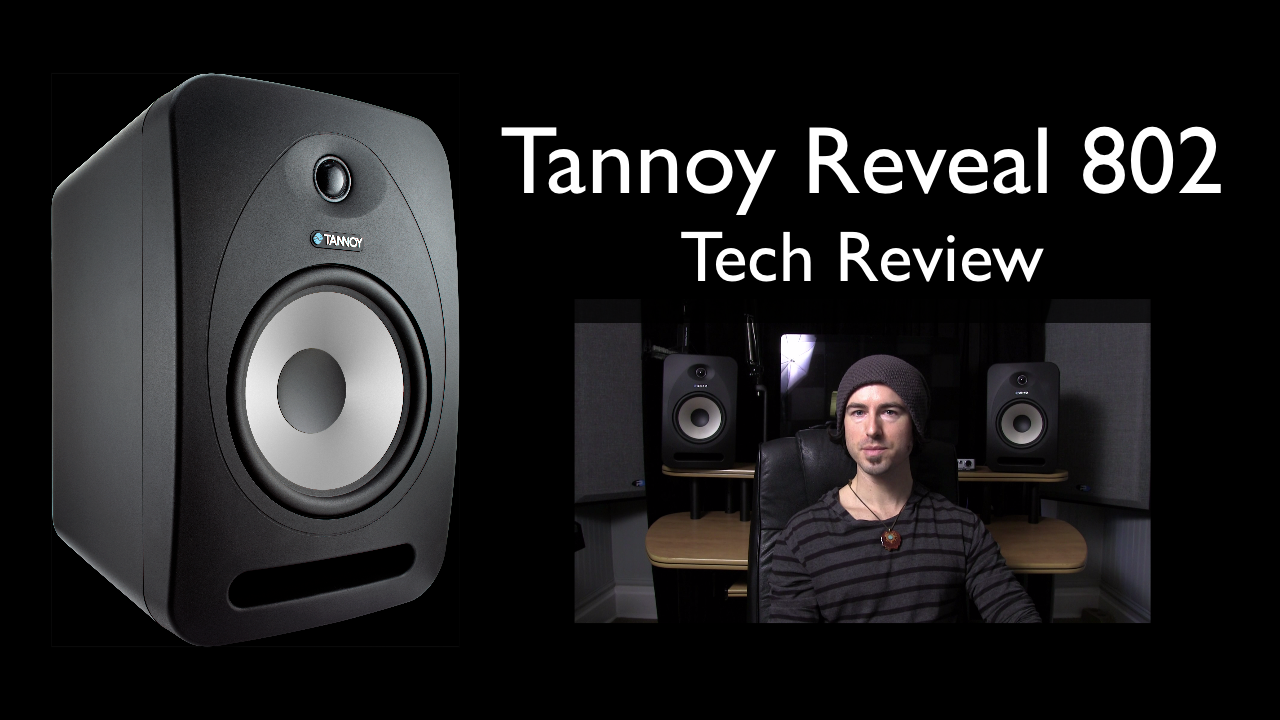 26 Jan

Tannoy Reveal 802 Review – Get the Low Down on These Studio Monitors

I recently reviewed the new Tannoy Reveal 402 ultra-compact studio monitors. They're great for small rooms and tight spaces. Now we're going to take a look at their big brothers. In this video, we're going to check out the Tannoy Reveal 802s and see how they stack up.

More info from Tannoy: http://bit.ly/1JPuWXH

Buy these monitors: http://bhpho.to/1CYK3vD
Overview
Let's kick things off with a quick overview of the core stats. These are substantially larger than the 402s and could be used as near fields or perhaps even midfields in a larger room. Here's the high level flyby:
They're an active, 2-way, studio reference monitor speaker
8" woofer
1" soft-dome tweeter
100W of bi-amped power

75W to the woofer
25W to the tweeter
Impressive frequency response

42 hz all the way up to 43 khz
That's way deeper than the smaller 502s and 402s, making these a solid choice for electronic music or hip hop.

Max SPL: 114 dB

Definitely loud enough to feel the music, or piss off your neighbours.

They're priced very reasonably at about $250-$300 USD a speaker, at most retailers.
The best price I've found on them is actually B&H Photo, where they're currently $238 each.

The link is below in the description if you wanna pick them up.
Also of mention, they won the Future Music Magazine "Gear of the Year" award in 2014.
Highlight Features
There are a few stand-out features I want to highlight here, before we get into the nitty gritty.
Stereo AUX link

Lets you connect a laptop, tablet, smartphone or music player. Anything with an 1/8" headphone style output.
There's no need for a sound card or mixer, you can connect directly to the speakers.
This is a deadly feature that expands their usefulness if you want to connect a buddy's computer in the studio, or if you want to use them as listening speakers.

Poke resistent tweeter

In the real world, you can't always keep curious fingers away from your tweeters. Tannoy has smartly designed a poke-resistant soft-dome tweeter that can take a few love taps and not dent.

Big sweet spot

The way the waveguides and crossover has been built, they have a BIG mixing sweet spot so you can move around, maybe even chair dance a bit, and still nail your mix.

Front-ported

They're front ported. This helps to reduce issues like boundary coupling where sound can reflect off of nearby surfaces and re-joining the original signal a split second later. This makes them a bit easier to use in smaller spaces, and also makes boundary coupling easier to control with acoustic treatment.

Rubber isolation pad on the bottom

This helps seat the speaker and does a little bit to acoustically decouple it. Although, because of the sheer size and amount of power these speakers put out, I would highly recommend using a heavy duty acoustic decoupling system like Primacoustic Recoil Stabilizers, or placing them on sand-filled stands behind your mix desk.
Back Panel
Let's take a peek around the back panel. You'll find a simple and straightforward set of controls and connections. First up, we have balanced XLR and unbalanced 1/4" inputs. We also have the super convenient 1/8 stereo AUX link. When using the AUX link, you have a speaker position selector so you can tell the system which monitor is on the left and which one is on the right. Some other monitors have daisy chain audio connections, but they're usually mono, so it's nice to see one that's proper stereo.
To adjust the monitor for your mix room, you've got a volume control and a treble trim switch that can tilt the treble up or down by 1.5 dB. The crossover frequency is at 1.8 kHz so it'll affect frequencies above this point. Down below, you've got a power switch with blue power indicator, voltage selector, and power connection.
The Sound
Now let's talk about how they sound. I've had them in my studio for a solid couple of months now and I've gotten to test them out on several mixdowns. I really like these monitors. The 402s were a little small for me without a sub, given that I write bass heavy music, but the 802s gave me incredible bass extension without any need for a sub. I prefer to mix on a pair of full range monitors, and only use a sub occasionally for reference when I want to really feel the low end. Subs are pretty complex to dial in correctly though, so I really liked the fact that I didn't feel the need for a sub with the 802s. At the same time, I found the bass wasn't hyped or muddy. It was really accurate to my ears. Other monitors I've had in my room sounded overly subby and hard to accurately gauge the subs in my mix. These sound very round and true. I also find I'm able to mix on them for a long time without ear fatigue. When you want to crank them up, they go really loud as well. Although I usually monitor at moderate volumes, it's nice to know they can move a lot of air without clipping.
Overall, I really dig these and for around $500 USD for a pair, they're a fantastic entry level monitor for anyone looking for smooth and accurate bass extension. Check them out with the links below, and catch ya next time. Cheers!
More info from Tannoy: http://bit.ly/1JPuWXH
Buy these monitors: http://bhpho.to/1CYK3vD